The approach to VR in VET taken by the VirTrain project is inclusive. We will introduce participants to options for participation without VR goggles i.e. using a regular PC or tablet. That means that participants and their students will be able to participate regardless of technical skills or health conditions that may put full VR experience out of question. Cross-platform approach brings several advantages also to the methodological dimension of the project.
As VR is now effectively a tool of distance education and training, VirTrain project deals with the challenges posed by the increased demand for ICT uptake in all spheres of education. In the era of Society 4.0 and fast changing world with numbers of threats (e.g global warming, COVID-19 etc.) the VET education needs to use effective education tools and methods. This project will offer VET teachers methodology and guidelines how to use Virtual Reality for teaching and learning.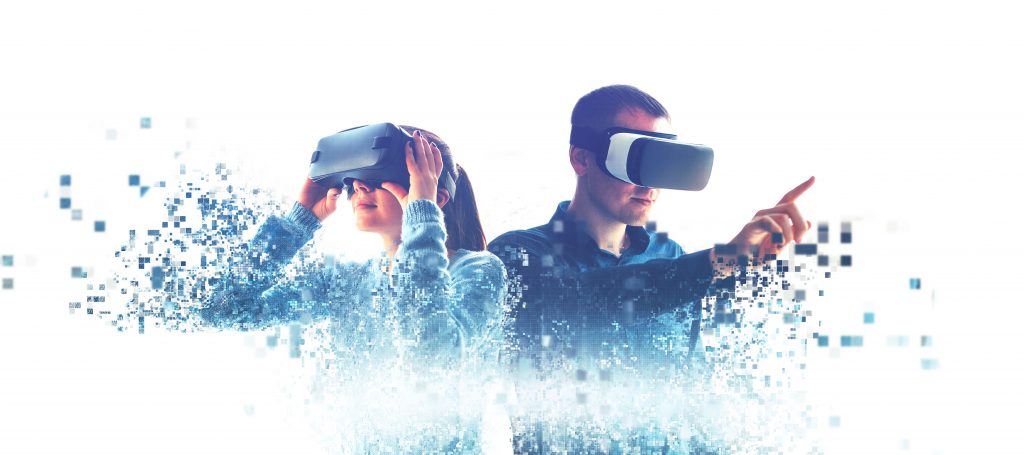 Virtual reality in our classrooms is a highly innovative feature and as such new capacities acquired with the uptake of VR bring significant potential in professional development and competencies of all VET teachers, mentors and trainers. There is a high potential of return on investment in terms of replicability of the concept where methodology and teacher training are developed in a clearly defined subfield.
Features of contemporary VR solutions like voice transmission, "meeting" in different environments and the first specialized applications for language learning make the area of professional language training (in VET) a clear choice for an innovative project like VirTrain. The affordances of the VR technology that are useful for the target group of VET language teachers are therefore clearly accessible and it makes sense to start unfolding the possibilities from this direction.
We have chosen the priorities bearing in mind that VirTrain is aiming specifically at language teachers in VET because they can make the most out of the given tool – virtual reality – within a realistic time and resource framework following the aforementioned "Recommendation from the European Commission on Languages" (2018) (https://ec.europa.eu/education/education-in-the-eu/council-recommendation-improving-teaching-and-learning-languages_en) by setting ourselves up to explore how virtual learning environments may be used as easy-to-use digital tools to develop collaborative and immersive learning environments.
The topics addressed by VirTrain go in line with the overarching goal to finally create a one-stop-shop for VET language teachers to take up teaching with VR. The purpose of VirTrain is to improve digital competences of its participants in the area of teaching and learning foreign (professional) languages and deliver a new educational method for them to apply in their daily practice – both in a classroom and online.
Relevant literature:
[1] Lan, Y. J. (2015), "Contextual EFL Learning in a Virtual 3D Environment", Language Learning & Technology, 19(2), 16-31
[2] Dooly, M., & Sadler, R. (2016), "Becoming Little Scientists: Technologically-Enhanced Project- Based Language Learning. Language Learning and Technology, 20(1), 54-78
[3] Peterson, M., (2011), "Towards a Research Agenda for the Use of Three-Dimensional Virtual Worlds in Language Learning", CALICO Journal, 29(1), 67-80
[4] Peterson, M., (2013), Computer Games and Language Learning, New York, Palgrave
[5] Stommel, J., & Morris, S. M. (2018), The Urgency of Teachers: Critical Digital Pedagogy, Virginia, Hybrid Pedagogy Inc