Continuous professional development of (language) teachers in the highly innovative area of virtual reality – that is the sub-field of digital technology for teaching and learning, namely within the VET area the VirTrain's project consortium promised to tackle.
So where are we heading with 18 months of the behind us?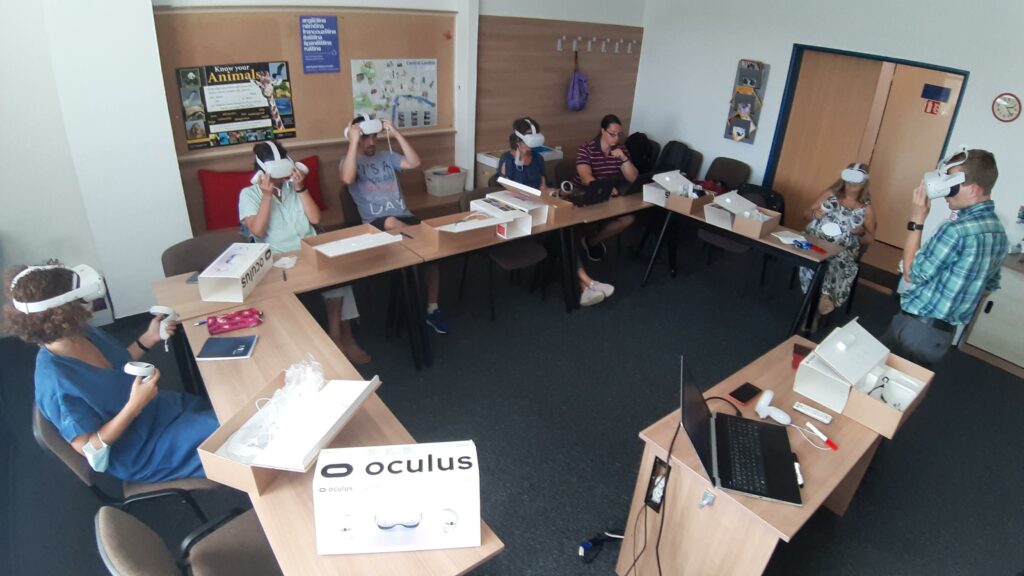 Hypothesis 1 confirmed – VR makes sense in VET…
Virtual reality in our classrooms is a highly innovative feature and as such new capacities acquired with the uptake of VR bring significant potential in professional development and competencies of all VET teachers, mentors and trainers. There is a high potential of return on investment in terms of replicability of the concept where methodology and teacher training are developed in a clearly defined subfield.  
Hypothesis 2 confirmed – The tech is here & ready…
Features of contemporary VR solutions like voice transmission, "meeting" in different environments and the first specialized applications for language learning make the area of professional language training (in VET) a clear choice for meaningful innovation and teacher upskilling.
During the project we have proven the affordances of contemporary VR technology to be useful for the target group of VET language teachers.
It makes sense to go on unfolding the possibilities in this direction. 
Hypothesis 3 confirmed – Language training benefits from innovating with VR
We have chosen the priorities bearing in mind that VirTrain is aiming specifically at language teachers in VET because they can make the most out of the given tool – virtual reality – within a realistic time and resource framework following the "Recommendation from the European Commission on Languages" (2018). And we were right!
The preliminary feedback we are getting from the target group is overwhelmingly positive.
So, what is next?
Within the following months VirTrain will formulate the findings and finalize outputs that will be published on this website and disseminated widely through the planned events. Keep coming back!